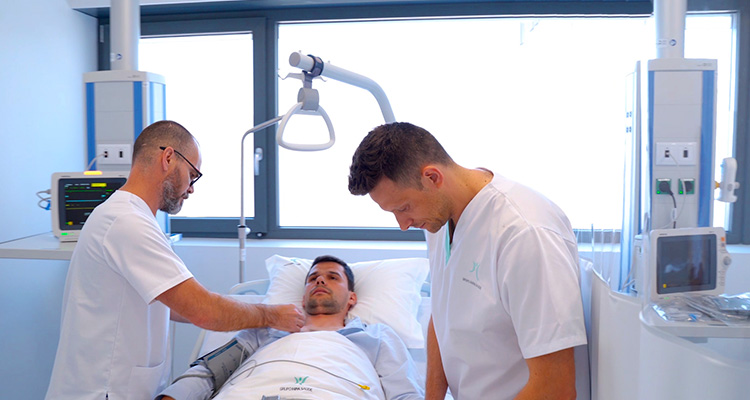 The Intensive Care Unit has a capacity of 8 beds (one in isolation ), capable of treating most complications that may arise in more serious pathologies.
It is located in the 1st floor with easy access to the Operating Room , In-Patient Department as well as Complementary Examinations.
It is a modern, technologically well equipped Unit. The professionals working in the ICU have extensive experience and expertise in the care of the critically ill patient.
The UCI has the necessary equipment for diagnosis, treatment and monitoring of patients with severe pathophysiological alterations. Technical resources are used in accordance with the most current scientific concepts . Each patient's bed unit consists of an electronic monitoring system of hemodynamic and vital parameters, medical gases, vacuum aspiration , infusion pumps and syringes.
Medical staff duty 24 hours a day for an immediate, safe and effective response to the critically ill patient . Postoperative care for complex surgeries or diseases with increased risk can be provided. Cases of organ failure that can complicate the clinical course of some diseases can also be treated.
Our object is excellence in the practice of medical and nursing care, centred on patient care and the needs of the family. The quality of care provided is continuously monitored.
---
The ICU has the following technical capacity:
Mechanical ventilation (invasive and non-invasive)
Invasive and non-invasive blood pressure monitoring
Continuous cardiac monitoring
Continuous renal function replacement (hemofiltration and hemodiafiltration)
Continuous oxygen monitoring
Portable life support for intra-hospital transport
Percutaneous tracheotomy
Bronchovideoscopy
Equipment for measuring arterial blood gases, electrolytes and metabolites
Cardiopulmonary resuscitation equipment
Ultrasound and echocardiography
Portable X-Ray equipment
---
Visiting Hours
Every day from 12 to 2pm and also from 6 to 8pm.