Hair Health Consultation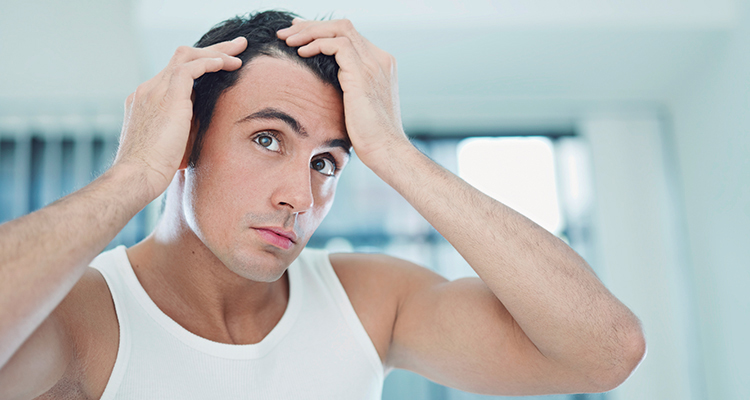 Hair Health includes the evaluation and treatment of hair dysfunctions, especially Alopecia: excessive hair loss without adequate renewal.
---
Main Pathologies
In order to properly understand Alopecia, it is important to know that hair growth is cyclical and encompasses three phases:
The first, growth or anagen between the ages of 2 and 6 years, when the hair grows 1 cm per month;
There is then a rest period which lasts approximately 3 weeks;
Finally, the hair loss period or telogen phase (80-100 hairs are lost daily), lasting approximately 3/4 months.
The most common forms of alopecia are Scarring Alopecia and Non-Scarring Alopecia. In Scarring Alopecia there is fibrosis, inflammation and loss of hair follicles, resulting in a smooth scalp and a decrease in the number of follicular orifices. In Non-Scarring Alopecia, there is loss of hair root, but hair follicles remain, explaining the reversibility of this type of Alopecia.
Androgenic alopecia is the most common cause of hair loss in both men and women. It occurs in a polygenic pattern due to androgen activity (male sex hormones such as testosterone or androsterone) and particularly in people with this genetic predisposition.
---
Advantages of this Medical Speciality at the HPA Health Group
The most consolidated treatment for Androgenic Alopecia, with a very high success rate, is the autotransplantation of the follicular units by the FUE - Follicular Unit Extraction technique.
This minimally invasive technique, with a rather short recovery time, has shown excellent results.
The follicular units are removed one by one from the donor site, for posterior placement in the bald area. The donor zone recovers rapidly and doesn´t leave scars. Small whitish milimetric points that may remain in the donor zone are very discrete and imperceptible.
---
Related Exams
The treatment of Alopecia will depend on whether the hair lossl is localized or generalized, temporary or permanent.
It is also important to evaluate the distribution pattern, scalp (scars, papules, scales or erythema) and laboratory tests (blood count, blood glucose, serum ferritin, creatinine, hepatic transaminases, TSH, magnesium, zinc, among others).