Hyperbaric Medicine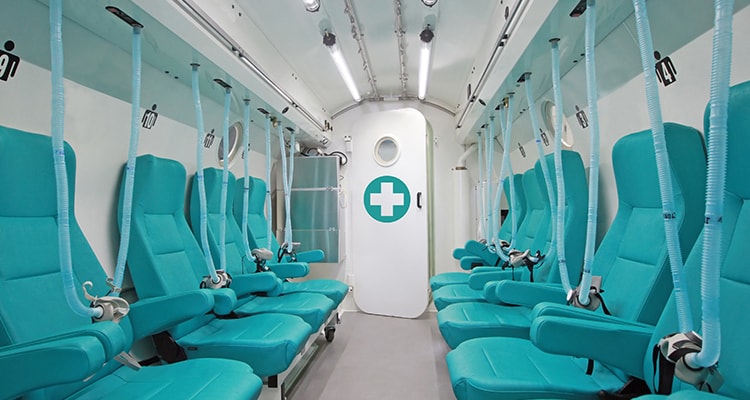 Hyperbaric oxygen therapy treats medical conditions in a hyperbaric chamber in a pressurised environment with air pressure above normal atmospheric pressure. It also deals with the study of physiological adaptations to a hyperbaric environment, prophylaxis and treatment of occupational diseases resulting from recreational and professional activities such as deep sea diving.
The patient remains within the hyperbaric chamber breathing pure oxygen at a pressure higher than atmospheric pressure. Certain diseases, such as tissue hypoxia, ischemia, inflammation, infection and autoimmune alterations, respond favourably.
In a hyperbaric environment, the dissolution of oxygen in the blood plasma (which is usually negligible) increases significantly, reaching a quantity equivalent to the total oxygen consumption of the human body. That is when using only the plasma but not the erythrocytes. In this way an immediate hype- oxygenation of the tissue is achieved resulting in vasoconstriction and reduction of oedema.
In addition there are other proven effects of Hyperbaric Oxygen Therapy, the reduction of inflammatory processes and the activation of cell and tissue antibacterial defences, stimulating tissue repair.
---
INDICATION FOR TREATMENT IN A HYPERBARIC CHAMBER
To enable and ensure the correct identification of all patients with indication for this treatment the European Committee of Hyperbaric Medicine has defined the conditions in which Hyperbaric Oxygen Therapy has been proven to be scientifically useful.

Surgery
Thermal burns, electrical and chemical;
Wounds difficult to heal;
Grafts;
Cellulite, fasciitis and myositis after reconstructive and cosmetic surgery;
Necrotized soft tissue infections following invasive cosmetic procedures ;
Surgical wound dehiscences;
Patients with high risk of complications (diabetes, smoking, etc.), for prevention;
To reduce oedema and postoperative seroma in selected cases.

Orthopedics
Exposed fractures in selected cases;
Hematogenous osteomyelitis after surgery or fractures;
Septic Arthritis;
Arthrosis with or without infection;
Infected prosthesis after surgery;
Infection after orthopaedic surgery;
Aseptic necrosis of the femoral head.

Traumatology
Ischemic trauma of the extremities - crushed, exposed fractures, loss of extremities, broken blood vessels;
Compromised fractures (necrotic areas, ischemic, irradiated, etc.);
Fractures in prime areas: face, neck, perineum, genitals, hands and feet;
Traumas with secondary infection;
Progression of initial traumatic injuries;
Injuries of skin abrasions;
Accidents caused by biological agents (bites - spiders, snakes and insects, etc.);

Wounds
Refractory infections / multi-resistant germs;
Specific parts of the body; neck, perineum, genitals, hands and feet;
Loss of skin grafts;
Pale background (ischemic);
Osteomyelitis;
Possible amputation;
Fistula;
Not healing.

Diabetic foot and vascular diseases
Peripheral arterial obstructive disease with ischemic wounds;
Arterial Inflammations: thrombosis of the arteries, infectious arthritis;
Diabetic foot;
Venous ulcers;
Lymphangitis associated with skin lesions.

Others
Sudden Deafness
2nd degree burns in over 20% of the body surface;
Acute ischemic Ophthalmic Diseases;
Post Anoxic Encephalopathy;
Prevention of osteoradionecrosis after tooth extraction.

Emergencies
Carbon Monoxide Poisoning;
Decompression Accident;
Gaseous embolism;
Necrotizing fasciitis.

Contraindications:
The patient will be informed by the specialist in hyperbaric medicine of contraindications, if there are any, after the medical evaluation.
---
EQUIPMENT
The Hyperbaric Medicine Unit of the HPA Health Group is equipped with a Category 1 multi-seat chamber, equipped with the necessary means to treat and monitor the critically ill patient, in accordance with British Hyperbaric Association.
The "HAUX_STARMED 2200" Chamber has a 7 seat capacity. Each session is monitored by a specialist nurse, trained in hyperbaric medicine, who sits with the patient inside the chamber.
The internal environment is continuously monitored externally, by a hyperbaric chamber technician who operates the chamber , a doctor and a nurse who can enter the chamber if necessary, without having to stop treatment.
---
RECOMMENDATIONS
Existing safety recommendations and rules should be strictly enforced for the safety of all patients.
Items which are PROHIBITED inside the chamber are:
Cigarettes, matches, or other sources of ignition;
Earrings, rings, bracelets, watches;
Prostheses (contact lenses, hearing aids, wigs, etc.)
Newspapers, magazines and pens;
And makeup and products that are oil or alcohol based (creams, lacquer, varnish, gel, etc.)
"It is absolutely FORBIDDEN to smoke inside the House.
"Only 100% cotton clothes are to be used.
"Any doubts should be cleared with the nurses on duty.