Speech Therapy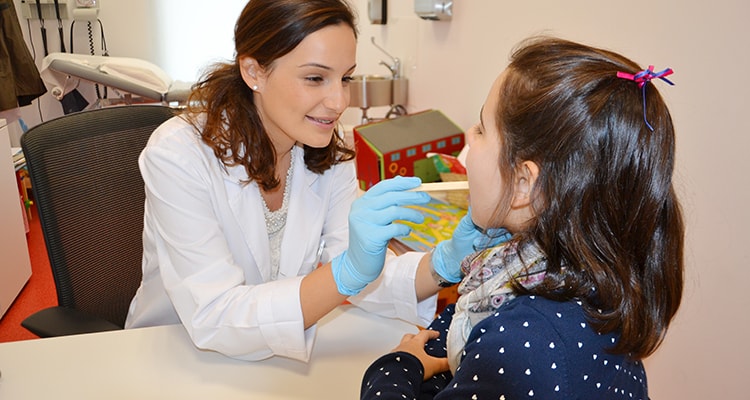 Prevention, assessment, treatment and scientific study of human communication and related disorders.
In this context human communication encompasses all processes associated with comprehension, oral and written language as well as all appropriate forms of nonverbal communication. Speech and language disturbances influence other senses hearing, visual, cognitive, respiratory, speech and swallowing.
The first step in the therapeutic process involves a comprehensive approach to the areas where there are alterations. The information gathered in an interview / initial assessment (history) and based on reports from other professionals should be part of the first Speech Therapy consultation and will be the basis for a full evaluation.
This assessment, based largely on standardized tests, will identify existing alterations, determine the strengths and difficulties and, from there, along with the family, defining the best suited treatment plan. The initial plan is often reevaluated and readjusted if necessary.
Although the Speech Therapy sessions are, are usually with the individual only, the presence of a family member is recommended, in order to obtain information and strategies to be applied in a different context, outside the sessions.
Response to the initial treatment plan as well as progress are regularly evaluated so as to readjust, when necessary, in order to obtain the desired results in the shortest period of time possible.
---
AREAS OF INTERVENTION
The Speech Therapist Works with a interdisciplinary team of professionals (ENT Specialist, Pediarician, Neurologist, Physiatrist, Orthodontist, among others.
Word articulation disorders (difficulty in pronouncing sounds and words, lack of sound among others);
Fluency disorders (stuttering);
Interactions and communication disorders (autism);
Written language disorders (dislexia, dysgraphia, disorthographia, among others);
Early intervention in children with disabilities (Down Syndrome, Cerebral palsy, deafness, among others;
Eating difficulties (in respect with chewing, swallowing, retaining saliva, babies with suction difficulties, among others);
Language or/and speech difficulty due to brain injury (Stroke, Traumatic Brain Injury);
Developing and maintaining communication strategies in patients with language disabilities (Amyotrophic Lateral Sclerosis, Cerebral Palsy);
Changes in motor and / or ora-facial sensitivity (facial paralysis, degenerative diseases, among others).
Voice alterations (frequent hoarseness, effort in speaking, among other symptoms - vocal fold nodules, polyps, and other pathologies).
---
WARNING SIGNS


Children
At 8 weeks does not react to normal sounds and shows inactivity;
At 18 months doesn't speak any words;
At 24 – 30 months does not execute simple commands;
At 36 months does not speak comprehensible sentences for an outsider;
The child is older than 4 years and stutters;
Has a hoarse voice or effort in speaking;
Changes / omits some sounds when speaking;
Eye contact is absent or reduced;
Difficulty in relation or interaction with other children;
Difficulty in chewing food;
Breathes mainly through the mouth;
Difficulty in reading and writing.

Adults
Frequently hoarse, effort in speaking (nodules, polyps in the vocal folds, laryngeal carcinoma, among others);
Difficulty in speaking and understanding due to brain injury, degenerative diseases (stroke, traumatic brain injury, amyotrophic lateral sclerosis, among others);
Eating difficulties (in chewing, swallowing, retaining saliva, among others);
Changes in motor or oro-facial sensitivity (Facial paralysis , among others).