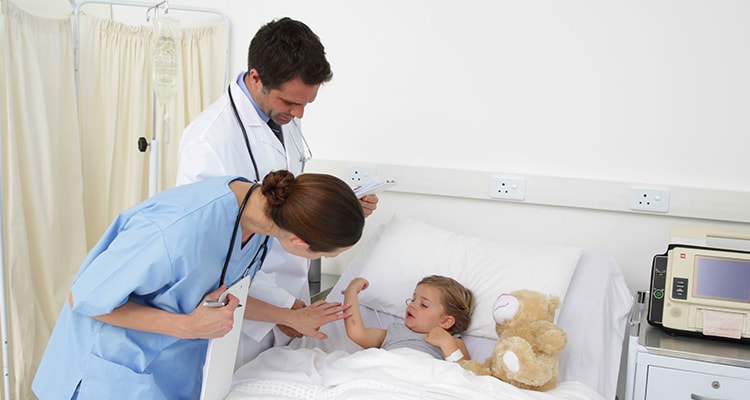 The Unit is available in our Hospital in Gambelas – Faro, and has a 6 bed capacity all in single private rooms. It is supported by a medical team and nursing staff at all times.
This area on the 1st Floor is reserved exclusively for children who may need to be hospitalized for medical care.
This Department of the hospital can take care of children as in-patients from birth and therefore has a ward specifically dedicated to neonatology, with incubator and all the equipment necessary to treat a child from the newborn stage.
The parents may choose to stay with the child in hospital at all times.
---
ROOMS
Air conditoned;
Medicinal Gases throughout;
Entertainment system (Faro Unit);

Available in Various languages;
Free Internet access with XL Messenger and Youtube;
Digital TV;
Corporate TV;
Radio Channels;
Weather Forecasts;
Faro Airport Flight Details;
Games;
News.
---
Useful Information
A patient can gain hospital admission through various means:
by the Emergency Department
by own Personal Physician
by the Out-patients Department of the Hospital
by the Child Parents with justification
Follow-up and care will always be the responsibility of a Specialist Physician and nursing staff on duty.

What should you bring with you for a hospital admission:
Only your personal hygiene product, slippers and pajamas.

What you should not bring with you for a hospital admission:
For hygiene and security purposes personal valuables should be left with a family member. The hospital cannot be held responsible for lost personal objects.
If this is not possible, you may ask one of our Auxiliaries to hand them to our Main Reception together with a descriptive list, where they will be kept in our vault for safekeeping.

Hospital Discharge
Once you have been Discharged from hospital, you must make your wasy to our Main Reception in order to finalize all administrative procedures. You will be given the results of all exams which you were submitted to during your hospitalization, Medical Reports and the Doctor's Prescriptions together with the invoice referring to your admission.

Questionnaire
We believe that the patient is the most important element in the Hospital Particular do Algarve. In order to continuously improve the services we provide your opinion is important. We would therefore appreciate that you should complete one of the Questionnaires available.
---
Visiting Hours
12pm to 08pm