The CareCard CLÍDIS is the health card issued to CLIDIS patients.
When CLÍDIS - Clínica de Diagnósticos de Sines, joined the HPA Saúde Group, all CLIDIS CareCard Holders gained additional advantages, as they now have added benefit at any Unit of the HPA Health Group, with its network of Hospitals and Clinics.
FOR ONLY 3€ PER MONTH
No grace period
No age limit
Extensible to the spouse and minor children
Advantages immediately after application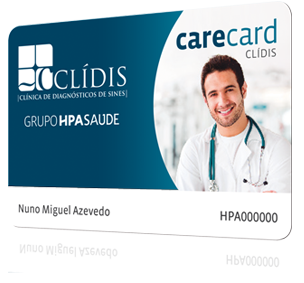 ADVANTAGES AT THE CLÍNICA PARTICULAR CLÍDIS
All family members benefit for these advantages at the cost of 1€ per month per member.
ADVANTAGES AT THE VARIOUS UNITS OF THE HPA HEALH GROUP
Payment facilities (prior approval necessary)
Anbulance transport 30% discount
Emergency Episodes 20% discount
All other services 10% discount
The CLIDIS Care Card conditions are not cumulative with other health plans.
HOW TO APPLY?
Complete an Application Form available here or by paper at any one of our Receptions or on our Website, and hand us, or send us:
Post to: CLÍDIS – Clínica de Diagnósticos de Sines, Av. General Humberto Delgado, 7520-103 Sines
By e-mail marcacoes@clidis.com
Application Form